Your boiler is one of the most important appliances you have at home, especially during the cold winter months when we want to have a nice shower and keep our place cosy.
Servicing your boiler every 12 months is the best way of ensuring that it is running safely and efficiently. Many people tend to think that not getting theirs checked by a professional will save them money. But the truth is it can end up being the opposite and can cause a much bigger bill than necessary, when you end up needing a boiler installation.
Here are some reasons why you should invest in getting your boiler serviced every year:
– Safety first
Faulty home boilers can be extremely dangerous due to leaks of carbon monoxide. This colorless, odorless and non-irritating gas -known as the silent killer- is the reason why around 4,000 people are taken to hospital annually. Stay away from defective appliances and keep you and your family safe from harm.
– Avoid costly repairs
Professional gas engineers can spot any potential faults in your boiler before they become a reality. The average cost of bringing a broken one back to life is around £200, substantially more than a regular service. And if you need a brand-new boiler prepare yourself to pay at least couple of thousand pounds.
– Save on energy bills
A boiler that is not working properly cannot do its job efficiently, making you pay for energy that is not being used. Have it inspected, cleaned and tuned with a professional service. It will be as efficient as it was design to be, bringing down your gas consumption and, therefore, your monthly bills.
– Keep the warranty
According to most boiler manufacturers you must have your boiler regularly checked in order to claim on any faults on the warranty. Don't be surprised if they refuse to cover the cost of a repair if your boiler hasn't been serviced within 12 months prior to the claim.
WHAT IS INVOLVED IN A BOILER SERVICE?
1. Visual inspection
The first thing that the engineer will do is to examine the boiler and its surroundings, looking for signs of leaks, corrosion and any other general damage or distress indications that can prevent a normal function.
2. Working controls
It might sound simple but all controls, functions and safety devices from your boiler need to be tested by a professional.
3. Case removal
The engineer will remove the boiler case to see if the main components (heat exchanger, burner, spark probe, etc.) are working as they should. Remember you should never remove the case yourself as this must be done by a Gas Safe registered heating engineer only.
4. Gas pressure
All boilers have a requirement for a minimum gas pressure to ensure correct operation. And high gas pressure is unsafe so the installation will need to be examined too.
5. Flue check
Dangerous emissions have to leave your house safely. The engineer will check that the flue is fitted correctly and there are no obstructions that could compromise your safety.
6. Clean components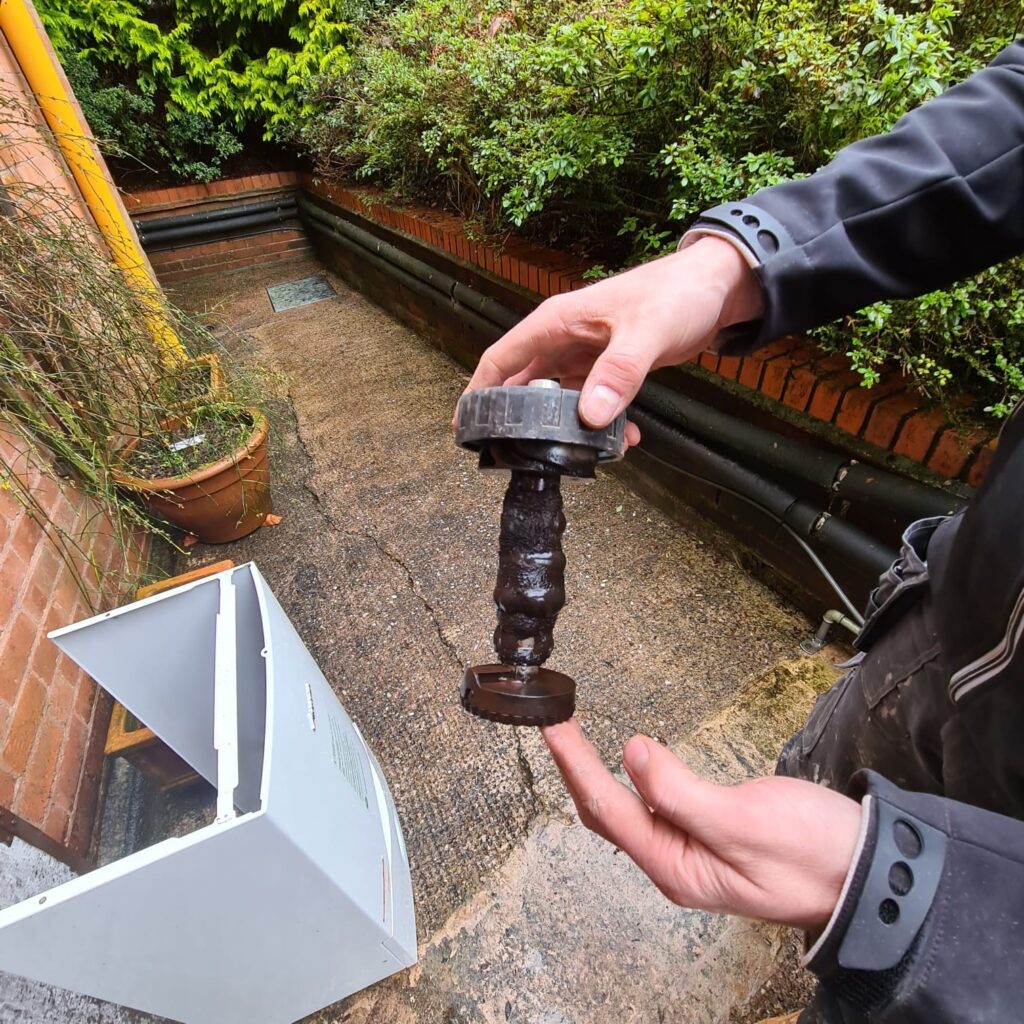 Main burner, heat exchanger, ignition pins and flue ways need to be clean so the boiler can work properly. After this step, the case will be put back in place and the specialist will make sure your boiler is in working order.
7. Report
Finally, the engineer has to provide you with a list of all the work carried out and records of technical data like pressure or heat input. Any recommendations or fixes required will be noted too. You must keep this information for future inspections and as a legal requirement for warranty and insurance.
When should you service your boiler?
Experts and manufacturers agree on the necessity of getting your boiler serviced at least once a year as this will help keep it running smoothly and safely. The best time to do so is during the summer months as you will set things ready for the following winter and engineers tend to be more available.
You should also book a service if your boiler shows one of these problems:
The boiler has an irregular flame
The flame is not as blue as it used to be
Presence of water or smoke stains
Water pressure often drops
Radiators take slightly longer to heat up
You don't know when your boiler was last serviced
You are concern about your safety
At ELGAR SERVICES we want to help you. Our highly-skilled technicians will ensure your boiler is kept in the best condition and that your family is safe. Get in touch today if any of the above applies to you!